Residential & Commercial Motorized Blinds, Shades, & Drapes In Tyler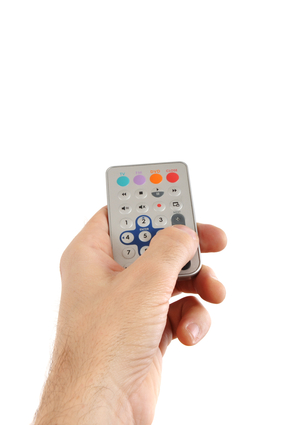 Goyne's Blinds and Shutters is your Somfy® Motorized Window Treatment Pro in Tyler. Whether you are looking for window shades, blinds, or drapes, there are options for you in motorization. The same smart technologies you see today to monitor and automate your climate control system, lights, or irrigation system is used to give you easy access and control of your blinds, shades, or drapes. With today's technologies, you can easily have smart window treatments that can be set on an automated schedule or be controlled from remote locations.
As your local Tyler Somfy® motorized window treatment expert, we can bring you the best prices, the best products, and the best service. Our company started way back in 1940 in the shutter business. We have worked hard to dedicate ourselves to the highest quality service possible. Whether you need a specific window covering for your commercial business or home, we can help you find the perfect options that are easy to control with motorized technologies.
Call our professional design consultant and we'll bring our mobile showroom to your location. This is a great way to shop for quality window treatments which will look perfect with your existing decor. We'll tell you all about our full line of affordable motorized window coverings if you are looking for the best, most affordable blinds, shades, or drapes.
Rain Sensor
Smartphone App & Linking Technology
Easy To Use Remote Controls
Programmable & Personalizable
Wireless Wall Switches
Table Top Remote Accessories
Motorization For Blinds, Shades, & Drapes
Whether you have fixed glass windows or windows that open, there are technologies available to help you control your window treatments easily, and Goyne's Blinds and Shutters is the company to call when you're looking for smart window treatments that are easy to use.
At Goyne's Blinds and Shutters, we often install motorized blinds and shades as well as other window covering types. Get with the new technologies for window blinds & shades by opting for our state of the art motorization!
Commercial Motorized Blinds, Shades, & Drapes
If you own a commercial business in the Tyler, Texas or surrounding area, you may be interested in finding window treatments that can be motorized for remote control or automation. Aesthetics, privacy, and security are key concerns for commercial businesses. Whether it's windows facing direct sunlight or fixed glass areas, or areas you want to increase security and privacy, our motorized shades, drapes, or blinds can help. With motorized products, you have options to open and close your window treatments on a schedule or remotely while you are away.
Automated shutters, shades, or blinds can be set to a particular schedule of your choice or can just be motorized so you can control them while you are away or on location. With our Somfy® window treatments, your business will benefit in many ways.
 Ultra-Quiet Operation
 Track Systems & Tilt Systems
 Easy to Use Remote Controls
 Installation in Any Space, New or Retrofit
 Set on a Schedule or Use Your Smartphone
For a commercial business, motorized and automated window treatments can be very handy, especially for privacy and security. Whether for your commercial interior, we can help you fit your windows and fixed glass areas with quality, durable, easy to control and care for window treatments.
Goyne's Blinds and Shutters is also available for projects near Tyler. Just contact us with your information and we will put together a plan based on your specific project needs. We look forward to working with you on your new project. And want to thank you for considering Goyne's Blinds and Shutters for your current and future commercial window treatment needs.
If you are looking for the highest quality shades, shutters, and blinds in Tyler, call Goyne's Blinds and Shutters to schedule a free consultation at 903-526-7985 or complete our online request form.