The Source for Wood Blinds in Tyler, TX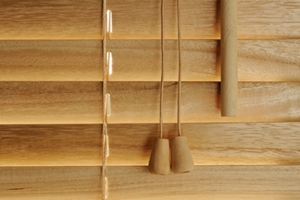 At Goyne's Blinds and Shutters, our Tyler window blinds company has been proudly serving the local community for over seventy-five years. During this time period, our goal has always been to offer the highest quality window treatments to local businesses and families. As such, we have always sold and installed stunningly beautiful wood blinds in Tyler, TX and the surrounding areas for our customers.
Call Goyne's Blinds and Shutters today if you want to dramatically improve the look and feel of your Tyler home by installing wood blinds throughout your property. Our courteous and polite staff would be happy to help you get this project off the ground. Our window blind installation experts can answer any questions that you may have about these marvelous products. We can schedule your appointment today.
Wood Blinds Provide Natural Beauty to Your Tyler Home
The first and foremost reason that you should consider installing wood blinds in Tyler, TX for your residence or business is their amazing beauty. The natural aesthetic and warm color of wood blinds is unsurpassed by any other window treatment option. These highly versatile decorative materials work well with any interior design scheme.
At Goyne's Blinds and Shutters, our Tyler window coverings specialists can help you choose the best options for your home. We have both painted and stained wood blinds in stock. We can provide you with a wide range of sample materials and critical information about your prospective choices. With this detailed advice and guidance, you can feel confident knowing that you made the best choice for your home. You and your family will absolutely love the look of your wood blinds for years to come.
Wood Blinds Are Extremely Functional
In addition to beautifying your living spaces, your new wood blinds will improve how you and your family use your home. Because wood blind block more light than traditional vinyl blinds, you have complete control over the amount of light that you will allow to enter your home. In addition, because wood blinds prevent light from exiting your home, when they are fully closed, you and your family will enjoy complete privacy.
Get Long-Lasting Beauty with Wood Blinds in Tyler, TX
When you choose to invest in wood blinds, you are making a choice that will reap positive benefits for the long term. Because wood blinds are made of extremely sturdy, high quality materials, these window treatments will stand the test of time. The only maintenance that you will need to conduct is routine dusting and cleaning.
As with all of our services, our Tyler window blind contractors are completely dedicated to your unique needs and goals. Throughout the project, our professionals will constantly stay attuned to your input. In this way can can provide you with the most customized services possible.
If you are looking for affordable, classic wood blinds in Tyler, TX or nearby, please call 903-526-7985 or complete our online request form.