Installing Shutters in Tyler, TX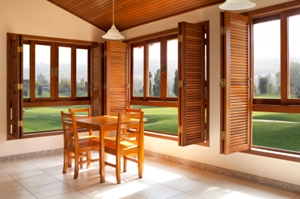 Shutters are a uniquely beautiful window treatment that can enhance the look of the interior and exterior of your property. If you are thinking about installing shutters in Tyler, TX for your home or business, Goyne's Blinds and Shutters is here to help. We have been the preeminent Tyler shutters company for over 75 years. Our highly skilled design experts and shutter installers can help you with every stage of the process.
Call Goyne's Blinds and Shutters today if you are looking for an exceptional shutter company in Tyler, TX. Our courteous and polite staff would be happy to assist you in any way that we can. Our knowledgeable experts can answer any questions that you may have about shutters or our amazing window treatment services. We would be happy to schedule your appointment today.
Choose From a Wide Range of Shutter Styles
At Goyne's Blinds and Shutters, our company carries a wide selection of shutters and other window coverings in Tyler, TX. Our professionals can help you choose the best window shutter option for your property and for your aesthetic goals. We can inspect your home in order to provide you with many sample options that we think will enhance your living spaces or the exterior of your property to the utmost. From classic plantation shutters to long-lasting polycore shutters, when it comes to shutters in Tyler, TX, we're the company locals trust to provide them with the best.
In all of our services, our Tyler shutter contractors have one simple goal in mind. Our objective is to provide our customers with the services that they will appreciate in the greatest fashion. As such, we constantly stay attuned to your goals and needs throughout the process in order to provide the most customize services possible. In the end, you and your family will absolutely love the new look of your shutters.
Types of Shutters that We Offer
Because we carry such a wide selection of shutters made by the top manufacturers, it is nearly impossible to list all the shutter designs that we carry. Here is just a short list of some of our more popular shutter options from which you can choose:
Plantation Shutters
Eyebrow Shutters
Arched Shutters
Wood Shutters
Faux Wood Shutters
Raised Panel Shutters
Louvered Shutters
Board and Batten Shutters
Cafe Shutters
And More
Local Experts Installing Your Shutters in Tyler, TX
At Goyne's Blinds and Shutters, our Tyler shutter company is here to handle the entire process for you. We can conduct your measurements and installations in the most expert fashion. All that you need to do is sit back, relax, and enjoy the best customer service possible. Your property will be better for it.
Latest Shutter Projects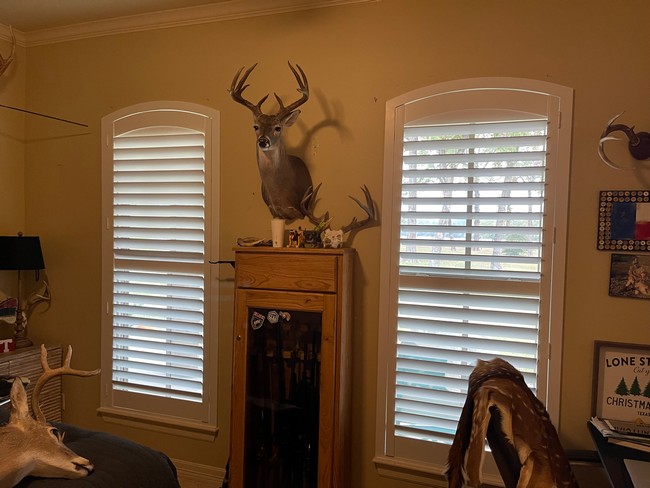 The customer wanted an upgrade from 2" faux blinds to shutters, not only for the look but to also fill in the Eyebrow tops in the bedroom. The change was amazing and the look they wanted was achieved.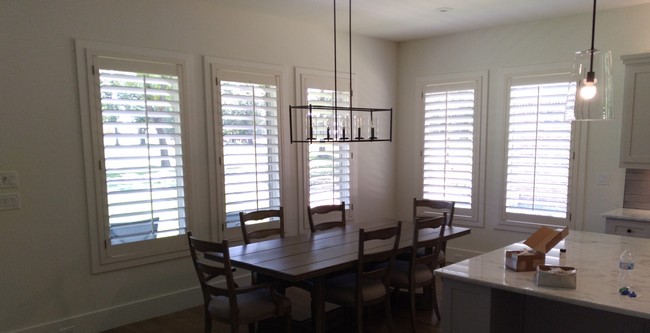 Goynes Blinds and Shutters put 4 1/2 inch louver shutters on every window and door in a new house in the Pinnacle Golf Club in Mabank, Texas. We used single panels so that when fully opened, the homeowner would have a great view of the golf course.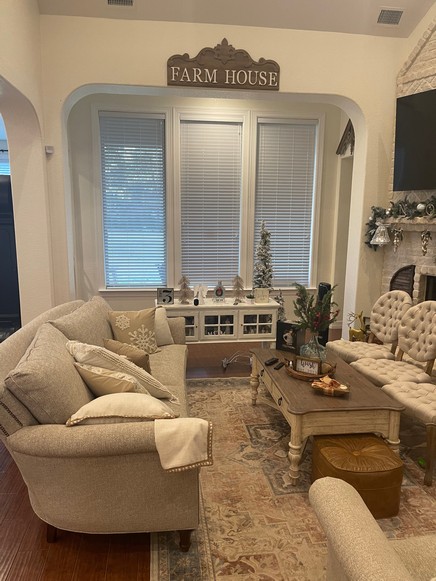 The customer had 2" faux blinds on all of the windows in the house and wanted something easy to clean and more modern. We used 4 1/2" shutters on the windows and made the office have an arched top shutter to make the window complete. To soften things up, we used roman shades in the den for a touch of color.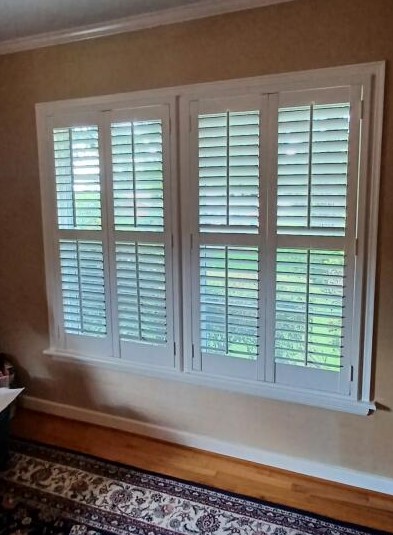 The customer had the old-time 1 1/4" louver shutters and wanted to update to bigger louvers. We chose 2 1/2" louvers as they would work in the opening with a z frame.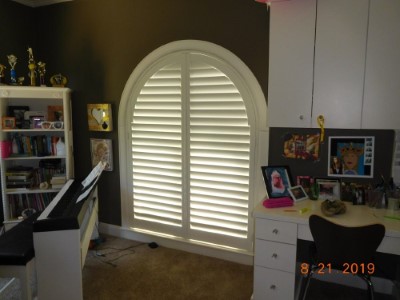 Our customer wanted to update her house and get rid of the cellular shades, that worked great but were an open or closed situation. We went with 3 1/2" Hidden Tilt Shutters to give her more light control and darken the room when needed.
If you are looking for shutters in Tyler, TX or nearby, please call 903-526-7985 or complete our online request form.