Polycore Shutters in Tyler, TX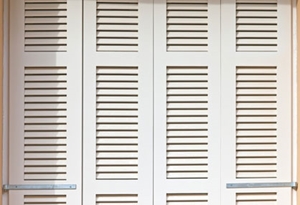 If you are thinking about installing shutters in or around your home, you should know about polycore shutters in Tyler, TX. Polycore shutters are above and beyond the longest lasting and most durable window treatments on the market. As such, when you choose to use polycore shutters you can feel confident knowing that you are making a long-term beautiful addition to your residence. At Goyne's Blinds and Shutters, our Tyler shutters company is here to help you with this effort.
For the last seventy-five years, Tyler families and businesses have trusted our professionals with all their window treatment needs and goals. Our team has been so successful for so long because we put our customers first in everything that we do. When you hire us to install polycore shutters in Tyler, TX or any of our surrounding service areas, we will strive our hardest to ensure that you are completely satisfied with the results.
Call Goyne's Blinds and Shutters today if you are looking for a shutter company in Tyler. Our Tyler polycore shutter experts would be happy to answer any questions that you may have about these amazing window treatments or any of our other exceptional services. We can schedule your appointment today.
What Is a Polycore Shutter
Again, the primary reason that you should install polycore shutters in and around your home is the fact that they are highly durable, long-lasting, and relatively low maintenance. These unique window treatments have all of these aspects because of the way in which they are manufactured. The exterior of polycore shutters is vinyl. Inside the vinyl, there is an aluminum core. This combination of two amazing materials results in the best possible window treatment system.
Benefits of Polycore Shutters
The primary application in which polycore shutters are exemplary is for exterior installations. The exterior vinyl will retain its beautiful look and color for the long-term. Vinyl does not fade or discolor, and it is resistant to rodents and biological growth. Your polycore shutters will not warp and can resist most elemental damage.
The aluminum core of these shutters will also prevent the louvers from sagging overtime. Its rigidity and durability is unmatched by other window treatment options. When you install polycore shutters on your Tyler home, you can rest assured knowing that their beauty will last well into the future.
Polycore Shutter Installations in Tyler
At Goyne's Blinds and Shutters, our Tyler window coverings company can provide you with the best possible shutters and installation services throughout your project. We can help you select your polycore shutters from a wide range of samples. Our shutter installers can conduct the measurements for you as well. All you need to do is sit back and enjoy our exceptional service and amazing results.
If you are looking for polycore shutters in Tyler, TX or nearby, please call 903-526-7985 or complete our online request form.