Tyler Woven Wood Shades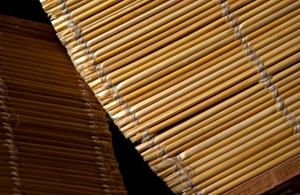 One of the most uniquely beautiful window treatment options on the market is woven wood shades in Tyler, TX. Woven wood shades combine the natural beauty of wood blinds with the delicate opacity of window shades. These wonderful window treatments can truly enhance the look and feel of any room. At Goyne's Blinds and Shutters, our Tyler window blinds and shades company is here to provide for all of your needs.
Our window treatment contractors have been a staple of the Tyler community for the last eight decades. Throughout this time period, we have worked our hardest to help our customers make the most impactful window treatment changes to their homes. We are honored by the trust the local community has shown in our efforts and services. When you hire our team to install woven wood shades in Tyler, TX or any of our nearby service areas, we promise to honor the trust that you show in us by working our hardest to achieve all of your needs and goals.
Call Goyne's Blinds and Shutters today if you are looking for a window blinds company in Tyler, TX. Our selection of woven wood shades is wide and varied. We install only woven wood shades made by the top manufacturers. With our assistance, you are guaranteed to make the most of the project. Our Tyler window coverings staff would be excited to schedule your appointment today.
Woven Wood Shades Are Made From Naturally Beautiful Materials
Woven wood shades are made from a wide variety of amazing natural materials. At Goyne's Blinds and Shutters, our Tyler window shade company has window treatments made from grasses, reeds, wood, and more. As such, there are countless colors and designs available to you.
When you come to us for your woven wood shade project, our design experts can provide you with a wide range of sample materials. We can provide you with the advice and information that you need in order to make the best choice for your property, your family, and your aesthetic goals. Through our customized services, you can feel confident knowing that you made an amazing change to your home.
Woven Wood Shades Delicately Transform Your Living Spaces
Not only are woven wood shades uniquely beautiful, but they maximize and enhance the natural light that enters your Tyler home. Even when fully closed, these window treatments can allow a limited amount of light into your home. This shaded lighting can enhance the ambiance of your rooms as much as the woven wood shade does. This combination of beauty is dramatically enjoyable.
Latest Woven Wood Shade Projects
The customer wanted to do a nice roman style shade in her kitchen and laundry room with no cords. We put up a new style of woven wood with a light filtering liner to help with the sun and heat. A banding was added to give the shades a little pop.
If you are looking for woven wood shades in Tyler, TX or nearby, please call 903-526-7985 or complete our online request form.