Comparing Wood and Faux Wood Blinds for Your Home
---
---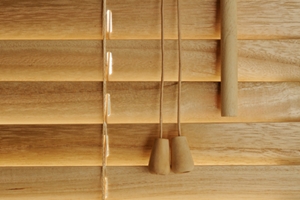 Are the blinds in your Lindale home looking old and drab? It's most likely time to spruce up your living space with some new window treatments, and adding a hint of the natural environment would foster a feeling of warmth and earthiness in your home. Wood and faux wood blinds are intriguing, but how do you choose?
Although some consumers may group wood blinds and faux wood blinds in the same category, the two types present different advantages and disadvantages because of their appearance and composition.
Wood Blinds
Wood blinds exude sophistication and luxury, so they are typically more costly than faux wood blinds. Wood blinds are durable and light, and their finishes can be matched to the existing wood tones in your home. Because of their lightness, they are available in a wide range of sizes and are ideal for large windows. Wood is susceptible to warping, so placement in rooms with high moisture and humidity, such as kitchens and bathrooms, should be avoided to prolong the lifespan of the blinds. This opposition to moisture also makes wood blinds harder to clean than faux wood blinds. Despite their vulnerability to moisture, wood blinds are more energy-efficient and more absorbent of heat, cold, and sunlight than faux wood blinds.
Faux Wood Blinds
Just because faux wood blinds are real wood look-alikes and may not represent the luxury of real wood does not mean that they lack quality or style. Faux wood blinds have many benefits, and for some homeowners, they are preferred over real wood blinds because of their affordability and other factors. Faux wood blinds are usually vinyl, a material that is easier to clean and harder to damage than wood. Faux wood blinds are able to endure sunlight, humidity, and overall wear and tear. They are designed with wood-like finishes and stains and are comparable to real wood blinds in appearance and attractiveness, but their wood finish and stain variety are more limited than the variety of real wood blinds.
Real or Faux?
If you're installing blinds in a room with high humidity, such as the bathroom, consider faux wood blinds.
If you value energy efficiency, consider real wood blinds.
If you desire blinds that require minimal maintenance and simple cleaning, consider faux wood blinds.
If you have young children or pets that tend to rough up window treatments, consider faux wood blinds.
If you require a lightweight window treatment for large windows, consider real wood blinds.
If you want your blinds to match the wood tones in your home perfectly, consider real wood blinds.
If you are on a budget, consider faux wood blinds.

Choosing between wood and faux wood blinds can be a daunting task, but it doesn't have to be. If you're unsure about the appropriate blinds to use in your home, contact Goyne's Blinds and Shutters, a distinguished Lindale blinds company, at 903-526-7985 to schedule a design consultation and start your journey toward the blinds of your choice.
If you are looking for exceptional Wood Blinds and Faux Wood Blinds in Tyler, TX or nearby, please call 903-526-7985 or complete our online request form.