What Homeowners Should Know About Real & Faux Wood Blinds in Tyler, TX
---
---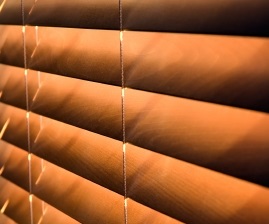 Whenever a Tyler property owner considers installing blinds in his or her home, one of the major decisions, if not the most important decision, is choosing between real wood blinds and faux wood blinds in Tyler, TX. At Goyne's Blinds and Shutters, our window blind company is here to help you with this seemingly difficult decision.
Our experts have been providing the Tyler community with the highest quality window treatment services for over seventy-five years. As such, our window blind professionals have the knowledge, skill, and experience necessary to help you with every aspect of this project. In addition, we can give you the absolute best advice so that you can make the best choice when it comes to wood or faux wood blinds in Tyler.
In order to assist our customers with this decision, our experts have provided the following information that you should know about these two amazing window treatments. When you hire us for your window blind project, we can provide you with further detail and exceptional service. In the end, you are guaranteed to be completely satisfied with whatever decision that you make.
The Aesthetic Difference Between Real and Faux Wood Blinds
If you are striving to maximize the beauty of your window blinds, then you should probably choose to install real wood blinds within your home. Although faux wood blinds effectively mimic the real material, nothing could every provide the natural beauty and warmth that real wood has. That being said, faux wood blinds are still stunningly beautiful, so the slight sacrifice in looks does not mean that one should not consider using them.
The Functional Similarity Between Real and Faux Wood Blinds
Both real and faux wood blinds are highly durable, long-lasting, and low maintenance. All you really need to do to keep these window treatments looking their best is to routinely clean them. The one major difference is that faux wood blinds stand up to moist environments better than real wood blinds. As such, if you are planning to install window blinds within a kitchen or bathroom, you should consider using faux wood blinds.
The Price Difference Between Real and Faux Wood Blinds
Where faux wood blinds are definitively superior to real wood blinds is on price. If you are trying to revitalize the look of your Tyler home on a restricted budget, faux wood blinds can be a great choice to stretch your home improvement dollar.
As always, our Tyler window blinds company is here to help you during the selection process. With our expert advice and the wide array of samples that we will provide for you, you will be able to choose the window blinds in Tyler that you and your family will love the best for years to come.
If you want to install faux wood blinds in Tyler, call Goyne's Blinds and Shutters today at 903-526-7985 or fill out our online request form.