Tyler Window Blinds Cleaning How To
---
---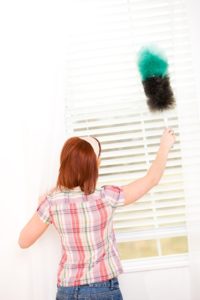 Window treatments are a fantastic addition to any living space. Window blinds especially can completely change the look and feel of any room. In order for your window blinds to have the most dramatic impact, it is important to keep them clean. At Goyne's Blinds and Shutters, our Tyler window blind cleaning and installation company is here to help you with this important task.
Depending on the material that your window blinds are made out of, the method by which you should clean them is different. Our window blind cleaning contractors know the best ways to clean all type of window treatments. Our experts have provided the following guide so that you can understand how we will provide you with the most customized and highest quality window blind cleaning services possible.
Cleaning Metal and Vinyl Blinds in Tyler
Metal and vinyl blinds can stand up to high levels of moisture. As such, they can be cleaned with warm soapy water. When you hire our Tyler window blind cleaning professionals to clean these blinds for you, we will remove them from the mounting hardware, so that we can clean even the hard to reach portions of these systems. After these window blinds are perfectly clean, we will reinstall them for you.
Cleaning Wood Blinds in Tyler
In contrast to metal and vinyl blinds, wood blinds can be harmed by high levels of moisture. As such, when you decide to clean your wood blinds, you should use a high-quality furniture polish instead of soapy water. Again, our highly skilled Tyler window blind cleaning contractors can disassemble your wood blinds in order to ensure that every portion of the window treatment is cleaned in the best possible fashion.
If heavier cleaning is necessary, water can be used, but one must be cautious. You must make sure to not saturate the wood and should wipe away excess water immediately in order to prevent warping, spotting, or discoloration. When you trust our window blind cleaning experts with this task, you can rest assured knowing that no deleterious effects will occur during the cleaning process.
Cleaning Fabric Blinds in Tyler
Perhaps the most difficult to clean window treatments are fabric blinds. The primary problem with fabric blinds is dust, which can be removed via a vacuum cleaner or hairdryer. However, if there are stains on the fabric, it is always best to trust the cleaning with a Tyler window blinds professional. Certain washing methods can damage or discolor the fabric. At Goyne's Blinds and Shutters, our Tyler blind cleaning contractors know the best ways to clean fabric blinds.
If you are looking for a professional that provides window blinds cleaning in Tyler, call Goyne's Blinds and Shutters today at 903-526-7985, or fill out our online request form.